WOT provides a wide range services, many of which include cost savings far above the investment.
These services pertain particularly to the RailWay- Freight industry and/or companies receiving freight involving switching and demmurrage. Services may apply to other areas, but on a probable case by case basis and will certainly be applied wherever possible.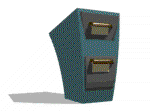 Our Services

Expert witness testimonials have saved this entire industry millions of dollars. If you are an attorney or a company in the process of hiring one and needing expert opinions on any matters relating to Railway/ RR freight, then WOT can definitely be your best option. Let WOT save your company millions in possible legal exposure(s).

* Demmurage bills can quickly add up, and many times these expenses were in vain and could have easily been avoided. Let WOT address these issues with your best interest in mind. These are some of the areas where your savings can more than make up for your time and money invested in consultation.


* Safety is probably one of the most important areas in your company, and the one never having enough attention or limited exposure to potential improvements. WOT has many years vested in Safety Training, Rules classes, and procedures and policies. Let WOT help address your safety needs and suggestions.


* Does your company's size not warrant or constitute a large investment in switching personnel, manpower, and resources? Or does your company simply need more input, ideas, or legwork. Call WOT and see if there any ways we might improve your workload, and turnover.